Warning: Some of the content below, although not graphic, may upset sensitive readers
The first month of life is the most vulnerable period for a babies survival. 2.4 million newborns died in 2020 in the first 28 days after birth. These 28 days pose a real danger to infants born with undiagnosed or untreated conditions. In 2020, nearly half (47%) of all under-5 deaths occurred in the newborn period (the first 28 days of life), an increase from 1990 (40%), because the global level of under-5 mortality is declining faster than that of neonatal mortality.
Preterm birth, intrapartum-related complications (birth asphyxia or inability to breathe at birth), infections and birth defects are the leading causes of most neonatal deaths. Children who die within the first 28 days of birth suffer from conditions and diseases associated with lack of quality care at or immediately after birth and in the first days of life.
While we are getting better at treating older babies and toddlers (reflected by the figures above) we are still failing the newborn infant and mother. Many early infant deaths are preventable with access to proper care. Something as simple as an incubator can make the difference between life and death. The ability to accurately diagnose and detect problems in newborn requires a highly skilled physician (a pediatrician) as doctors historically, and for good reason, don't want to touch newborns.
They are fragile, unable to provide any form of feedback and can potentially be suffering from a range of conditions the average doctor is simply not qualified to diagnose.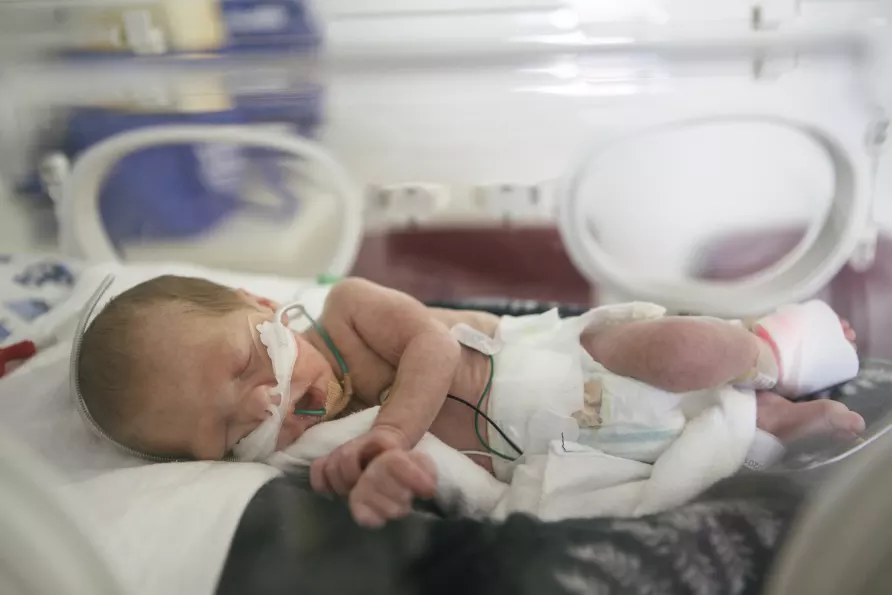 Sub-Saharan Africa has the highest neonatal (that first 28 days) mortality rate in the world (27 deaths per 1000 live births) with 43% of global newborn deaths, followed by central and southern Asia (23 deaths per 1000 livebirths), with 36% of global newborn deaths.
Surviving birth has become a health lottery
The chances of survival from birth are literally a geographic health lottery, with certain countries and states posing real dangers to a mother and their newborn. Sub-Saharan Africa had the highest neonatal mortality rate in 2020 at 27 (25–­­32) deaths per 1000 live births, followed by central and southern Asia with 23 (21–­­25) deaths per 1000 live births.
A child born in sub-Saharan Africa is 10 times more likely to die in the first month than a child born in a high-income country. Country-level neonatal mortality rates in 2020 ranged from 1 death per 1000 live births to 44 and the risk of dying before the 28th day of life for a child born in the highest-mortality country was approximately 56 times higher than the lowest-mortality country.
Most neonatal deaths (75%) occur during the first week of life, and in 2019, about 1 million newborns died within the first 24 hours. Preterm birth, childbirth-related complications (birth asphyxia or lack of breathing at birth), infections and birth defects caused most neonatal deaths in 2019.
It is debatable as to what percentage of these infants could have been saved with adequate medical care as some infants are born in remote areas (where care cannot be provided), some infants are born with challenges their tiny systems cannot overcome, even with medical assistance and some cases are simply beyond the reach of our current medical knowledge and technology.
What is certain is that with proper access to trained medical staff and medical equipment, we can make a serious dent in these figures, perhaps even more than half them. Every effort should be made to provide these two key elements to areas that suffer from health disparities, and although charities and doctors work tirelessly in rural communities, we simply aren't doing enough.
America joins the disadvantaged world
The United States has the highest infant and maternal mortality rates out of any other high-income country and simultaneously spends the most on health care, according to a report released by the Commonwealth Fund.
When the goalposts for access to healthcare are shifted, it is usually the poor and disadvantaged who pay the price. In America, there is a growing disparity in the provision of care to women and newborn. Rural hospitals are shuttering their maternity and pediatric units at unprecedented rates and obscene profiteering in the healthcare industry has priced care far beyond the reach of all but the wealthiest of Americans, with even middle income families struggling to meet the skyrocketing costs of care.
It is a health travesty unfolding in real time. Recent abortion rulings outlawing access to medically assisted abortions further endanger the lives of infants and their mothers. With no where to turn for care, expect to see the neonatal mortality rates skyrocket in America, particularly among poorer, communities of color.
In some ways, poor American women are worse off than their Asian, Indian or African counterparts. With historically poor levels of care, local councils and charities in these countries stepped into the breach, providing some semblance of free care. Also, typically, poorer communities in America suffer from high levels of obesity, diabetes and other chronic conditions usually spared their third world counterparts.
America has yet to come to grips with the fact that it has an existing and burgeoning problem, let alone creating state based infrastructures to protect these vulnerable patient populations. In short, American neonates are going to be dying at rates not seen for the last three or four decades unless steps are taken to protect them. The writing is already on the wall, we are just to embarrassed to read it.
Want to know what Clinics IV Life is doing to address this?
With the help of our donors, we are already building clinic projects in Asia, and India and Africa are next. While we continue to expand into areas where mothers and children are at serious risk from lack of access to care, we are also eager to expand our model into the US market. Our U.S. Advisory Board has been tasked with exploring areas of special need and circumventing prohibitive regulation. We are confident and determined to finding a workable model for this market.
To gain a better understand of how our clinics – staffed by an OBGYN and a Pediatrician – work, we recommend reading this article.