We're thrilled to announce that as of the 17th of July, 2023, our nonprofit Provider Directory listing doctors in the USA, Canada and the Philippines is now live. The directory is exclusively for the benefit of our 1000 CLUB members, doctors who've chosen to actively involve themselves in seeking to improve the health outcomes of women. It is a small token of thanks from us, to the doctors who support our mission.
If you'd like to join your colleagues who make use of our self-sustaining charitable model of care to drive their ideas in disadvantaged communities across the globe, then you can enroll now through the Directory itself or on the Clinics IV Life site.
You can access the Provider Directory here and if you'd like to learn more about the 1000 CLUB, simply click on this link
How does the Directory benefit Providers?
The listing page hosts a lot of information on your practice and the services you offer, the screenshot below offers an overview. It allows patients to make an informed choice and the listing is supplemented with a patient review section, allowing great service to promote doctors to the top of search results.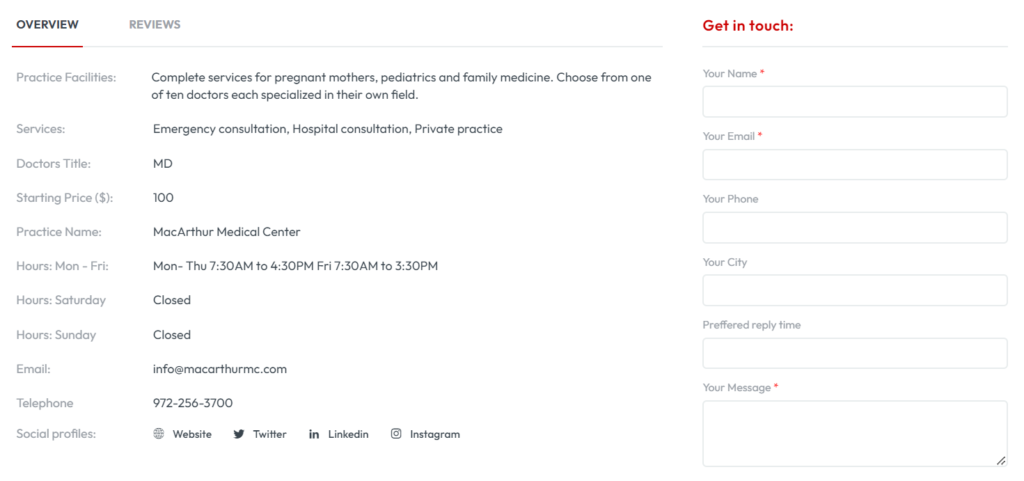 The Donation doctors pay for subscription to the directory also acts as a membership fee for the 1000 CLUB, a closed group of health professionals dedicated to the improvement of women's healthcare. The group is managed by Clinics IV Life and each donation (membership fee) is utilized in its entirety for the benefit of the 501(c)(3) charity we operate. These donations are deductible to the full extent of the law.
A single subscription enables a doctor to list themselves and 9 other colleagues from the same practice, in effect, ten directory entries. Clinics IV Life optimizes these listings to ensure they appear in Google searches and works with a provider to ensure individual listings stands every chance of being seen.
Doctors can add in three social media platforms (LinkedIn, Twitter and Instagram), with a fourth (YouTube) scheduled to be added to the list in the coming weeks. There's also space for your website and a handy form alongside your listing allows patients to reach out to you directly from the page, with messages directed to your provided email account.
Making things accessible for patients
We've gone out of our way to ensure patients can find you, based on location searches, specialties, gender and more. The latest API's from Google maps ensure your address is captured correctly and address fields are auto filled, ensuring we don't have any address mismatches.
Patients will also be able to find the directory easily, through web searches and aggressive marketing and social media exposure to follow in August.
Please do consider joining us, if you're not already a member, and enjoy the company of some of the most driven, compassionate medical professionals on the planet. We're intent on changing the face of charitable care for women while address the health disparities they face and every voice brings us that much closer to realizing our shared vision.